Thematic Geographic Data
If geospatial data for cetain areas of expertise are visible in stereo aerial imagery or orthophotos and can be photogrammetrically measured, GTA GeoService GmbH can capture these data for you.
Measurable data are:
Areas
e.g. green areas, street areas, playgrounds, parks, woods, cemeteries, water areas, etc.
Locations
e.g. of trees, street lamps, traffic lights, pylons, manhole covers, etc.
Linear objects
e.g. railway tracks, road centerlines, power lines, etc.
The thematic geographic data can be combined with the geographic basis data.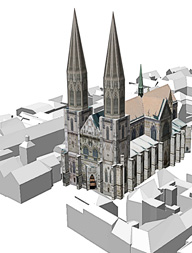 Our expertise for your projects
We gladly advise you project-specific and customer-oriented. Ask for a quote for your project without any obligation. Write us an email.