State Authorities:
Mecklenburg ­Western Pomerania, Brandenburg, North Rhine­ Westphalia, Saxony­-Anhalt, Rhineland­ Palatinate, Hamburg, Saxony

Cities: Aachen, Berlin, Bielefeld, Bocholt, Brandenburg, Braunschweig, Brüssel, Chemnitz, Coburg, Den Haag, Düsseldorf, Freiburg i.Br., Fürth, Göttingen, Gütersloh, Halle/Saale, Hamburg, Ingolstadt, Karlsruhe, Kiel, Köln, Moers, Nürnberg, Offenburg, Stralsund, Rheine, Rostock, Stuttgart, Strasbourg, Wiesbaden, Wolfsburg
Further:
Office for Military Geoservices, B&L Projektentwicklungsgesellschaft mbH Hamburg, Federal Office for Geoscience and Resources, German Aerospace Center (DLR)
EADS Astrium France, E.ON edis AG Fürstenwalde, Eurawasser Rostock, Public Utility Rostock, Energiewerke Nord GmbH, Fraunhofer Institut f. graphical datamanagement, Garmin, NavNGo, T­ Mobile Deutschland, Westmecklenburgische Energy AG, Alfred Wegener Institute for Polar and Marine Research, Water and Shipping Directorate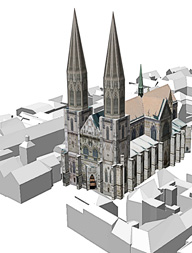 Our expertise for your projects
We gladly advise you project-specific and customer-oriented. Ask for a quote for your project without any obligation. Write us an email.