Real Estate Portal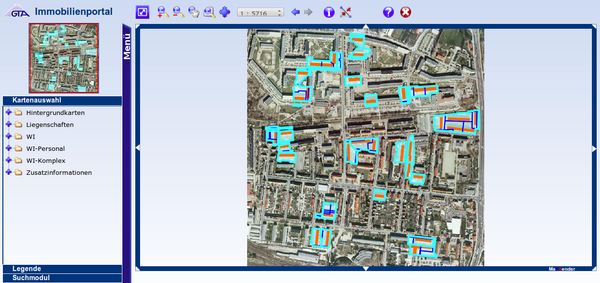 An interdisciplinary information system based on geodata and administrative data makes real estate management more efficient
Our geoportal for real estate management provides a quick geospatial overview of housing inventory and the parcel of land belonging to an economic entity. The interactive information system is based on open source technology and does not need any special software. Any internet browser is suitable to use the portal at your desktop computer or on mobile devices. An intuitively operable interface displays various thematic data together with additional maps from external providers, creates up-to-date site maps and generates statistics.
Internal Thematic Data
Building footprints of the economic entities and land parcels are held in a geospatial database, linked to selected master data from the real estate management and completed by outdoor facilities as necessary. The current building footprints and parcel boundaries can be acquired from the responsible land surveying and cadastre offices. The outdoor facilities are taken from existing maps and/or re-captured through photogrammetric interpretation and on-site measurings. As additional sources of internal information also photos, apartment floor plans, parking spaces and garages can be integrated in the information system.
Background Maps and Additional Information
As background maps you can use topographic maps of land surveying, aerial maps, city maps and cadastre maps.

Significant additional information are:
supply network and existing pipe system,
official district statistics
(area, inhabitants, job market, welfare, construction and housing, ...)
Points of Interest (POI's)
(public facilities, shopping facilities, sports and recreation centers, medical supplies, ...)
Log in to our demo account and check out the possibilities!
User: Immo_GTA
Password: immo_gta
Just a few moments after login the map appears on your screen.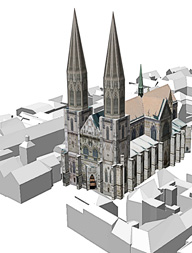 Our expertise for your projects
We gladly advise you project-specific and customer-oriented. Ask for a quote for your project without any obligation. Write us an email.