3D Landmarks
3D Landmarks are single buildings or groups of buildings, created as 3D models in a high level of detail, usually with photorealistic textures.
3D objects with detailed roof forms (LOD3)
detailed facade modeling with photorealistic textures
available data formats are CityGML, VRML, OBJ, KMZ, ESRI GDB ...
low data volume optimized for internet and mobile devices
flexible licencing models
Ask us for a quotation!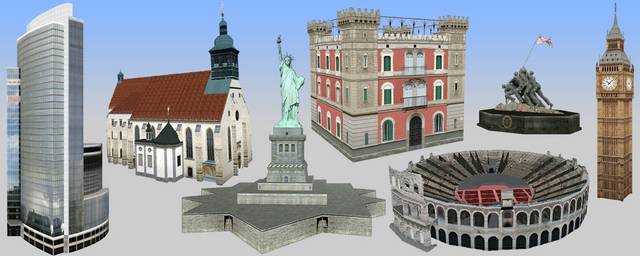 For the following cities, we offer landmark packages at very competitive prices:
500 landmarks Europe (44 cities, each 10 to 15 landmarks)
single landmarks also available
Austria: Graz, Salzburg, Vienna
Belgium: Antwerp, Brussels
Denmark: Copenhagen
Finland: Helsinki
France: Lyon, Nizza, Paris, Strasbourg, Toulouse
Germany: Berlin, Bremen, Frankfurt, Hamburg, Munich
Greece: Athens, Thessaloniki
Great Britain: Glasgow, Liverpool, London
Italy: Firenze, Milano, Napoli, Pisa, Roma, Torino, Venezia, Verona
Netherlands: Amsterdam, Den Haag, Rotterdam
Norway: Oslo
Portugal: Lisboa, Porto
Spain: Barcelona, Madrid, Sevilla, Valencia
Sweden: Stockholm
Switzerland: Basel, Genf, Zürich
90% Recognition Rate Modeling the State of North Rhine Westphalia in LOD2
A project to produce a complete dataset of building models in LOD2 for the State of North Rhine Westphalia, has been completed for Geobasis NRW (district government Cologne) together with our partner M.O.S.S. Computer Grafik Systeme GmbH. The data were produced fully automatically with novaFACTORY 3D Pro and tridicon® CityModeller. The completed LOD2 data were accepted in the desired quality and with a recognition rate of 90%.
Our expertise for your projects
We gladly advise you project-specific and customer-oriented. Ask for a quote for your project without any obligation. Write us an email.