Image Flights
Essential requirement for photogrammetry are aerial photographs.
Many years of experience in the area of photogrammetry and the good contact to different image flight companies allow us to offer professional consulting, as well as specialized planning and organizing of image flights.
Good photographs are important to guarantee the quality of photogrammetric evaluation. Therefore accurate planning, organizing and execution of a flight mission are absolutely crucial.
Planning includes:
choice of scale
choice of mission time and date
choice of sensor / camera
choice of image type: nadir and/or oblique images
planning of flight trajectory
determination of the number and location of ground control points
Organizing includes:
securing ground control points: signalling and measuring the exact location, ordering from government agencies, coordinate transformation ...
chosing a flight provider
quality check of photographs
archiving the photographs on secure data carriers
calculating projection centers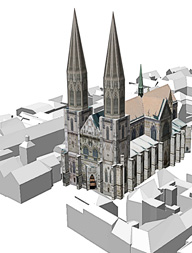 Our expertise for your projects
We gladly advise you project-specific and customer-oriented. Ask for a quote for your project without any obligation. Write us an email.