Aerotriangulation
Precondition for the photogrammetric interpretation of aerial images is the aerotriangulation. Aerial images are linked to a stable image mosaic and orientated within a coordinate system using ground control points. These georeferenced images are the basis for the creation of digital topographic maps, surface models, orthophotos and digital aerial maps.
With the software SocetSet™ by LH Systems under Windows NT and UNIX we are able to triangulate several thousand aerial images in one mosaic. Many years of experience with aerotriangulation of analogue and digital images enable us to provide huge image mosaics with an accuracy of few centimeters for the photogrammetric interpretation.
Using the software PATB we can also perform the bundle adjustment taking into account GPS projection centers.
New Possibilities with Inertial System
A new dimension in the creation of orientated aerial images opens up with the use of the "Aero Control" system by the company IGI. The orientation data are already recorded on board during the image flight and reworked with appropriate software, so that the orientation data can be used directly (without conventional AT) or as pre-orientation for an aerotriangulation. For our customers this results in considerable price advantage and a shorter processing time.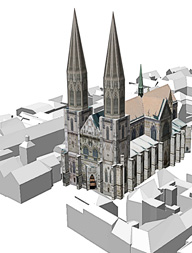 Our expertise for your projects
We gladly advise you project-specific and customer-oriented. Ask for a quote for your project without any obligation. Write us an email.